Lighting Contractor in Anchorage, AK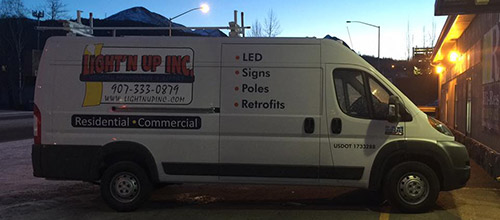 At Light'n Up, Inc., we pride ourselves on providing clients with the best quality lighting services in the industry. Our services include commercial and residential lighting installation and maintenance, with special focuses on LED upgrades, bulb replacements, wiring updates and new lighting fixture installations. Contact us for a free consultation and estimate on service!
Residential ServicesCommercial Services
A Residential & Commercial Lighting Contractor for Everyone
Keeping up with the lighting demands of your home or business isn't hard when you've got Light'n Up, Inc. on your side! We come equipped to perform any lighting services you might require, including LED retrofitting, fixture and switch installations, bulb replacements, wiring upgrades and more. Our goal is to help cast light into every corner of the room, so you can enjoy your home or work effective in your commercial building's facilities. And, as a full-service lighting contractor in Anchorage, AK, you can be sure that we're equipped to handle your lighting needs no matter how large or small they may be. From a couple dozen fixtures to thousands of bulbs, we're the experts to call when your lighting is in question.
At Light'n Up, Inc., we specialize in commercial lighting. Our mission is to help businesses keep their lights on and well-maintained, in order to save them money and optimize their facilities. From group re-lamps to LED signage maintenance, our well-trained professionals will ensure that every single bulb is illuminated brightly at all times. We welcome the opportunity to set up a service plan with your business and we can even recommend products and services to improve the longevity and functionality of your lighting. Contact your Alaskan lighting contractors today and see why we're universally regarded as the local lighting experts.

Now offering senior discounts!
All of our employees are uniformed, courteous and experienced, dedicated to delivering exceptional quality in all that they do.
We're fully licensed, bonded and insured in the State of Alaska, bringing you quality service with peace of mind.
Our business is Sign Erection Certified.
We've been locally-owned and –operated since 1998, serving all of Anchorage and the surrounding area cities and towns.
Our services extend to both residential and commercial properties.
Brighten Your Facilities!
For lighting services that brighten your facilities and illuminate your space, trust Light'n Up, Inc. Contact us today, whether you need LED retrofits, new bulbs or lighting repair.
Your residential and commercial lighting contractor in Anchorage, AK and the surrounding areas, including:
WASILLA, AK
EAGLE RIVER, AK
PALMER, AK
POINT MACKENZIE, AK
KENAI, AK
HOMER, AK
GIRDWOOD, AK
ALYESKA, AK
VALDEZ, AK
WILLOW, AK
  Licensed Bonded & Insured
  Sign Erection Certification